Management guru Peter Drucker stated that the purpose of business is to create and retain customers. But Drucker omitted an essential component for how companies stay in business — namely, that the customers they select and serve must be profitable. Otherwise, hand that customer over to the competition. Not all business is good business; and last time I checked, B2B businesses were not charities.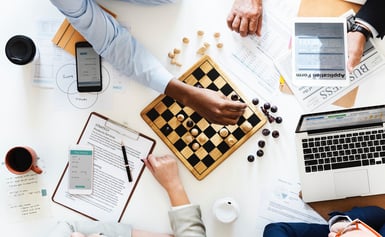 Ensuring this profitability is everyone's job — not just the responsibility of the sales teams. All commercial teams need to support the business' goal of aligning your price with the value you provide. The commercial team also needs to hold the line on not giving away value-added services to demanding customers. This behavior is a major source of profit leakage in today's businesses.
At Holden Advisors, we take great pride in helping our clients define this winning commercial playbook — by defining both leading and lagging indicators:
Leading indicators set the stage for your commercial leaders to focus on your differentiators
Knowing what you do uniquely well. Why your employees want to work for you and how you stand out in the marketplace
Knowing how you drive customer impact. Why customers buy your offerings. That is, what they can do by "hiring" your products that they could not do before and how that improves their business performance – by increasing revenue, improving efficiency, or just making their lives easier.
Engaging your sales team. Providing value tools and messaging that are relevant to the sales professionals' challenges in the field and that build the seller's confidence in your price and arms them to defend that price even in tough negotiations
Lagging indicators demonstrate success to the C-suite and the street
Higher margins. Holding the line in negotiations and stopping post-values service give-aways protects your margins
Shorter cycle time. Compelling, quantified value communication to the accounts builds support for your business case faster, closing the deals you want in less time
Healthier pipeline. When senior management trusts your pipeline, planning and communications to the street is based on solid data
Customer executive engagement. When customers recognize how you can improve their business, they will engage you early when the next opportunity emerges
Smart selling requires the entire commercial team to identify those customers whose businesses can best benefit from your offering and set and get a price that reflects a fair share of that value. Sellers need quantified value messaging to support value conversations across the buying center to communicate your value and set your company up for the next opportunity.
Looking for superpowers for your Sellers?