When determining product value, it's important to go beyond cost and demand. Your customers' perceived value matters too, especially if you want to build lasting business relationships.

At the close of a business deal have you ever walked away feeling good about the purchase?

If so, think about the things that made you feel that way. Was it the future savings or financial gains from your purchase, or the ease and delight of doing business with them?

Businesspeople tend to determine product value in terms of cost and demand. But, for customers, perceived value is often derived from the experience they have during the initial purchase and while interacting with the product or service. Unique touches, product consistency, premium offerings, seamless interactions, and other incremental positive experiences delivered consistently offer emotional satisfaction that creates value. So, it makes sense that to increase perceived value, businesses need to create more satisfying experiences.



The Value of Knowing Your Customer

American Express is a company that does a good job delivering a customer experience that exceeds expectations. They've listened to what's important to their customers and have studied customer segments on the direct consumer side and with business-to-business merchants.

What they learned is that they have a customer base with 60% higher incomes than non-American Express customers. And, they have buyers of all sizes, including extremely affluent consumer cardholders, many of whom are business customers.

A recent study showed that business customers are more likely to make purchasing decisions based on the total service package, not purchases based solely on price. American Express's tiered services evolve over a customer's lifetime and offer more generous rewards and higher levels of service at each tier. This creates an evolving high-value service package—so valuable that cardholders aspire to the next tier.


The Value of Communication Strategies

American Express has also grown their customer base by 4 million over a span of several years by masterfully using multiple communication channels from which to speak to their customer base. In doing so, they regularly communicate their value, keep up with market trends, and are able to grow by staying attuned to the changing needs of their customers. Multi-channel communication strategies also effectively attract new customers.


4 Steps to Creating Value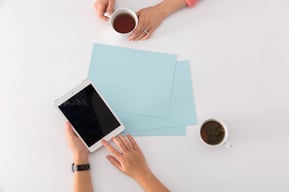 You don't have to be American Express to create perceived value for your customer. But you do have to allocate the time and resources to:
Study the market, your customers, and the economy in order to deliver one-of-a-kind customer experiences

Know your customers' priorities, ambitions, and needs so that their experience feels customized, intuitive and effortless

Be intentional on making continual

changes in your strategy to better fit your customer's needs

Communicate to your customer through multiple channels based on customer segmentation
In the end, value is attained by listening and answering the tangible and intangible needs of your customers as they interact with your sellers.