Leading an executive team can be challenging at times, especially during a time of underperformance. A recent client reminded us just how difficult and why.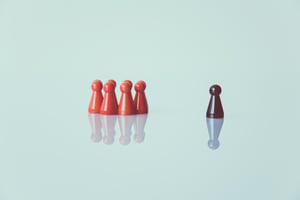 What do you do with a team of very successful, tenured, Executives who simply will not align on key objectives and/or priorities to drive their commercial strategy? Following rounds of interviews and layers of conversation, we identified the leadership team was lacking a few basics elements: data, analytics and functional alignment. So, despite strong intuition and a general agreement of the problem areas, the executive team was at an impasse. This is specifically what we found.
Issue #1 - Limited (or no) visibility
When we asked each leadership team member how they tracked their core objectives, many had their own data source, and therefore, their own version of the truth. Further complicating the matter, each was governing their team's performance according to these individualized data sources.
Solution: Create a single source of truth - It is imperative to first create an accurate reporting structure to level the playing field and open new conversations regarding alignment and decision-making.
Issue #2 - Differing priorities
Starting with the company's core objectives, we probed deeper into each Executive's priorities and how they contributed to the overall KPIs for the organization. Not surprisingly, the Executives disagreed on the prioritization of cross-functional projects, creating tension between the various functions involved. Further, not all cross-functional projects were tied to the corporate KPIs. (revenue, new & lost customers)
Solution: Row in the same direction - Once everyone has the same data, reporting, and dashboards, it is essential to reassess project priorities and link them to KPIs. Many times, functional priorities will need to be set aside, albeit temporarily, to focus on the broader KPIs.
Issue #3 - Corporate Silos
In the often-seen corporate environment of information silos and overlapping activities, each Executive's set of strategic initiatives were viewed and managed in isolation. Without a holistic view at the Executive level, accountability was shared by all, and therefore by no one.
Solution: Accountability at every level – It is critical to drive accountability down into the organization. The creation of simple reports (ex. price, volume and mix) provide insight into business variance. Then, and only then, will teams begin to see how their actions – either positively or negatively – impact the business results.
What started as the arduous task of aligning a seemingly desperate Executive team, resulted in a positive culture change and improved collaboration with the help of some basic principles. If you're interested in learning more about the benefits of having the right data and how to use it to propel teams to profitability, join us for our upcoming webinar on April 5.