Celebrating 10 Years of Pricing with Confidence (video 4 of 11).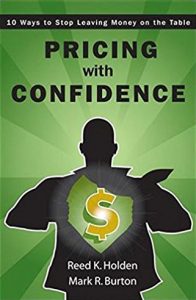 Richard Harrington discusses Rule Three in Pricing with Confidence - "Apply One of Three Simple Pricing Strategies."
Bring up "pricing strategy" in a meeting and you are likely to get a number of different answers and opinions. The most common answer being, "We need our strategy to stay flexible in our dynamic markets."
If you don't have a well-defined pricing strategy, then who, specifically, is setting your prices? Customers? Competitors? The key to stop leaving money on the table is to take control of your pricing, and own your strategy. Watch Richard's video to find out how you can "Apply One of Three Simple Pricing Strategies."

*Download an Improving Practice Plan so you can follow along with all videos and plan how to drive profitable changes in your organization:
Order the book: Pricing with Confidence: 10 Ways to Stop Leaving Money on the Table