Celebrating 10 Years of Pricing with Confidence (video 6 of 11).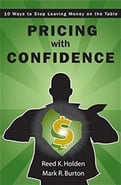 Erin Cihak discusses Rule Five in Pricing with Confidence - "Price to Increase Profits."
OK, show of hands, and be honest now...how many of you believe that if you grow the top line by increasing sales, you will see increased profits? Seems reasonable right?
Well, it's a myth.
And Erin is going to bust it.
Watch Erin's video to understand why profits result when an organization does many things right, including pricing. Efficiency, controlling costs, better profit metrics - all are required for pricing...and profit...success.
Be sure to download your Improvement Plan so you can follow along with the videos:
Request a call to discuss how you can break the top line growth = profits myth and price for profit in your organization.