Spoiler alert: Lowering prices on a high-value product in a competitive market will rarely drive long-term growth. Here's what to do with your competitive pricing strategy instead.
Consider this: Your company sees an untapped market and invests the time and resources to develop a new product. Think of Netflix's streaming services developed after their video delivery model, or Apple's smart phones in addition to their computers. After numerous product development lifecycles, product testing, and eventual launch, the market validates the need for your product and rapid product adoption occurs. Your company is leading the market.
Fast forward 10 years, and new competitors enter the space, some of whom have viable offerings. Your sales teams are increasingly citing competitive pressure as an inhibitor to closing deals, and even though your product continues to deliver value, your comfortable lead on the market is slipping. That's what happens when the market becomes fragmented.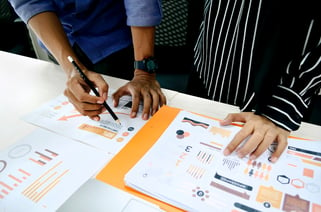 You're eventually going to ask yourself, should we lower the price to adapt to new market dynamics? In a growth environment like the one described, markets are elastic, which means lowering prices will increase demand. That's the reward. But the risk is your high-value product becomes devalued, thereby limiting profitability.
So, how are you going to retain customers and make good on your growth commitments?

Expand Your Product Suite to Offer a Lower Price for Lesser Value
One way to manage the risk is to introduce a stripped-down version of the product at a lower price. The product should offer core functionality without higher-valued, non-essential features. This limits your competitors' ability to capture price-sensitive market segments while also opening the door for a future upsell.
Alternatively, if the competitors' products offer similar value, innovating to add high value options allows for differentiation. Older products can then be offered at a reduced price reflective of value.

Implement a Product Development Strategy Based on Customer Value
Another approach to maintaining market position is implementing a product development strategy. This means building customer feedback loops to understand improvement opportunities or developing new features to enter adjacent markets.
Case in point is the recent news about Netflix subscriber growth. After experiencing rapid pandemic induced growth in 2020, 2021 growth returned to normal. Despite the slowed growth and crowded streaming market, subscribers are likely to experience higher prices. Amidst these price increases, Netflix continues investing heavily in content development, to both retain existing customers and accelerate growth in underserved markets.
The key to continued pricing success is to center your strategy around customer value. By continually identifying and communicating differentiated value, prices can not only be maintained, but increased over time.