Celebrating 10 Years of Pricing with Confidence (video 7 of 11).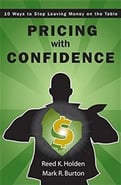 Peter Morelli discusses Rule Six in Pricing with Confidence - "Add New Product and Services that Give You Negotiating Flexibility and Growth."
Too often, sales teams only use discounts or service give-aways to close deals. This leads to a host of issues including leaving money on the table, teaching customers to negotiate hard for discounts and freebies, and eroding the customer's perception of value.
In this video blog, Peter Morelli takes a look at how adding new products and services give sales teams the negotiating flexibility they need to defend value and price. The most effective product strategies create a solution that covers high- and low-end customer needs.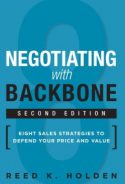 ****
If you liked the principles and ideas about negotiating flexibility in this chapter, check out Reed's follow-up book Negotiating with Backbone: Eight Sales Strategies to Defend Your Price and Value . The book explores strategies for creating discounting alternatives to help build backbone in tough negotiations.


****
*Also, download an Improving Practice Plan so you can follow along with all videos and plan how to drive profitable changes in your organization: