Recently, one of our clients—a sales executive at a leading chemical manufacturer—was facing a problem that we see time and time again in negotiations. Our sales executive, let's call him Bob, had submitted an RFP response for a contract renewal. Bob's customer came back and stated that a competitor had offered a significantly lower price. To make matters worse, Bob was informed that if he didn't reduce his price, all the business would go to his competitor. Unfortunately, Bob's feet were being held to the fire internally, as the customer in question contributed a significant amount of revenue.
Here's what we recommended:
Our first step was to help Bob and his team understand how their product was different, and more importantly better, than the competitor's offering. Bob's team identified a key point of differentiation in that their offering included 3-day delivery while their competitor only offered standard delivery (roughly 7-10 business days).
Bob's customer bluffed and told him that they did not care about the expedited delivery; they apparently had a large inventory storage space and inventory carrying costs were not a concern. However, after some due diligence and estimation of both cost and value, we recommended that Bob respond to his customer and offer his product at the competitor's price, but only with a standard delivery option, the same as the competitor. This is what we call using Give-GetsSM: trade-offs made to ensure the price paid aligns with the value delivered—protecting price and margin. To Bob's surprise, his customer came back right away and agreed to renew their contract at a higher price, so long as the promised 3-day delivery time frame was maintained.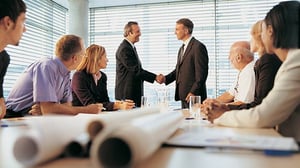 From that point forward, Bob and his team knew they were dealing with a Poker Player. This was a prime example of the importance of diagnosing the buyer type correctly and the first step to winning deals at the right prices.
Here are the basics of each of the four buyer types:
Price Buyer: a buyer who only wants the lowest-priced offering—no frills
Relationship Buyer: a buyer who typically relies on a single vendor to meet their needs—they really want to buy from an established and trusted source
Value Buyer: a buyer who chooses their vendors based on the value of the offering—they want to know details and ROI on your total solution
Poker Player: a Relationship or Value buyer in disguise—they use tactics to appear like a Price Buyer but they have a hidden agenda
Remember, there are four buyer types and eight selling scenarios. Each scenario has a specific set of negotiating tactics to employ to best position yourself to win a deal in that scenario, with that buyer type. If you incorrectly diagnose the buyer type, the chances of you identifying the correct selling scenario, and choosing the best negotiating tactics are slim to none.
To learn more about buyer types, why they are important, and how to identify them, download the first chapter of Negotiating with Backbone below.