Celebrating 10 Years of Pricing with Confidence (video 8 of 11).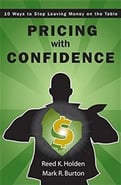 Alison Yama discusses Rule Seven in Pricing with Confidence - "Force Your Competitor to React to Your Pricing."
Avoid the competitive pricing death spiral. Smart players in the market know their value to customers, they know where they are strong and where they are weak. Knowing this value advantage makes for better, more profitable outcomes in competitive situations.

Join Alison Yama as she explains the key to growing profitably in a competitive market. Smart players know when and how to compete on price; but most importantly, when and where not to.
*Also, download an Improving Practice Plan so you can follow along with all videos in the series and plan how to drive profitable changes in your organization:
If you want to stop pulling that price lever too often to close deals and start growing profitably, click on the blue button below: